What Causes Tires to Wear Unevenly?

The best car in the world is essentially useless without high-quality tires. Healthy tires are crucial for safe vehicle handling. Excessive tire tread wear can become dangerous, especially when encountering inclement weather on the Naperville streets.
So, what causes tires to wear unevenly? Driving style, weather, terrain, and more can lead to uneven tire wear. Luckily, you can take action towards preventing uneven tire tread wear. Learn how in our guide below!
What Causes Tires to Wear Unevenly?: Improper Inflation
Driving with improperly inflated tires can lead to an uncomfortable or unsteady ride. If the tire pressure is too high or too low, your tires will have to work harder when turning, breaking, and accelerating to compensate. This excessive work can lead to uneven tire tread wear. When your tires are properly inflated, you will be able to safely grip the roads in Elmhurst, through every season. Check out our tire service offers to save on all of your tire needs!
What Causes Tires to Wear Unevenly?: Misalignment
When your tires are misaligned, it can have a serious domino effect on your car's handling features. Your steering and suspension components will be working overtime to make up for uneven tire angles. Having your wheels realigned routinely will ensure that your tires are making effective contact with the road for a safer and more secure ride on your Downers Grove commute.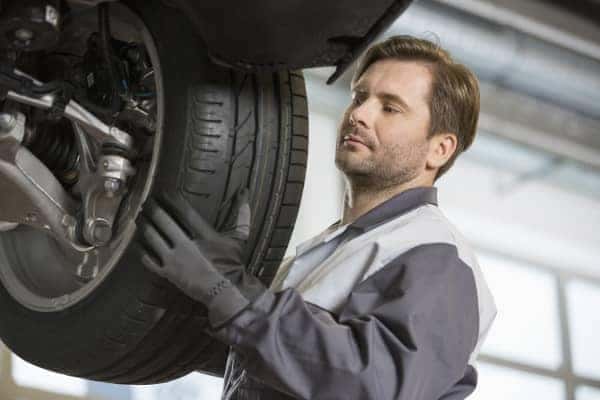 How to Check Tire Tread Wear
Uneven tread wear can be dangerous and can lead a nerve wracking ride. If you want to quickly check your tire tread wear from home, all you need is a U.S penny and a minute or two.
Take the penny and insert it into your tire tread. If you can see the top of Lincoln's head, it is time for new tires. If you can see past Lincoln's head, your tire tread is dangerously low, tires in that condition should be replaced immediately.
Get Your Tires Serviced at McGrath Acura of Westmont
If you have concerns about your tire tread wear, contact us today. You can schedule service with us to make sure your tires are safe for the road. Our technicians can explain to you what causes tires to wear unevenly and help you prevent it from happening in the future. Hit the road with peace of mind after you visit our service department in Westmont. You can even find more service tips on spring vehicle maintenance, tire rotations, maintenance facts every driver should know, and so much more.
More From McGrath Acura of Westmont
A luxury SUV can make all the difference to your Naperville and Elmhurst commute, and with the 2020 Acura RDX interior features, you can enjoy everything this fully loaded SUV has to offer and much more. The RDX comes with a spacious cabin for passengers and storage, along with a full suite of connected features….

No matter if you're looking for more space or more features, there are plenty of ways a luxury sedan can upgrade your Naperville and Elmhurst commute. That's why the 2020 Acura ILX interior has everything you need and more, from its unique cabin seating and design, spacious passenger and cargo room, and a host of…

If you're looking for the ultimate luxury car to take on Naperville and Elmhurst roads in speed and style, then the 2020 Acura NSX performance is sure to impress. This next generation supercar is capable of taking your drive to the next level, thanks to its strong fuel economy, performance specs, driver features, and more….