Acura NSX History

The new Acura NSX harnesses up to 573 hp and 476 lb-ft of torque from a 3.5L V6 augmented by three electric motors and two turbos, and it now has 30 years of industry-changing history behind it. It's been three decades since Acura debuted the NSX concept, and we're here to celebrate with some Acura NSX history.
How Did the Acura Supercar Change the Auto Industry?

The red, mid-engine NSX concept that first hit the 1989 Chicago Auto Show floor completely reinvented the supercar world even before it turned into the 1991 NSX production model. Before that time, it was widely accepted that enjoying supercar performance came at the cost of comfort and practicality.
It was the first mid-engine, exotic car you could drive every day.
As summed up by Jon Ikeda, Vice President and General Manager of Acura: "Before NSX, it was always assumed that supercar performance came at the price of a comfortable interior and everyday drivability. NSX shattered those notions, and raised the bar on every other exotic and supercar maker, with the effects still felt today,"
It was also the first production car built with an all-aluminum monocoque chassis and the first to introduce U.S. drivers to VTEC (Variable Valve Timing and Lift Electronic Control), a pioneering technology that's since become a Honda fixture.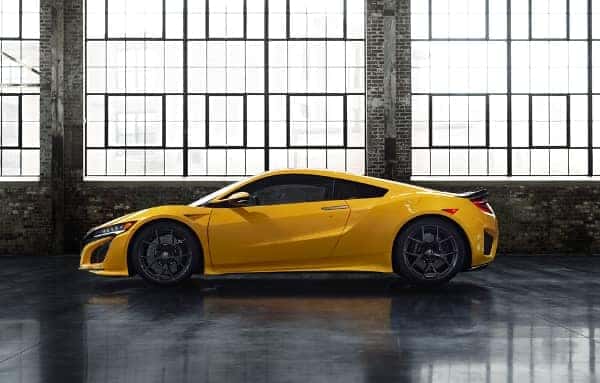 How Did the Acura Supercar Become What it is Today?
The first NSX production car launched for 1991 was a spitting image of the Chicago Auto Show concept, but some significant changes were made to the engine. The more potent powerhouse enabled a longer wheelbase and up to 270 hp.
Early NSX models used a five-speed manual, with a four-speed automatic launched soon after. Following innovations included:
The Targa-topped NSX-T in 1995
The addition of a 3.2L engine in 1997
Fixed xenon headlights in 2002
The 1st generation NSX entered its final production year three years later, and the current NSX arrived in 2016.
The Acura NSX Continues to Influence the Supercar World
Today's Acura NSX feels just as revolutionary as the model that launched back in 1991, and you can learn more about the Acura A-Spec Package or 2020 Acura NSX performance specs then experience it first-hand by contacting the team at McGrath Acura of Westmont today.
Related Acura NSX Pages:
Acura NSX Performance Features
Acura NSX vs BWM i8