Acura NSX Reviews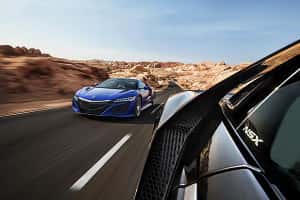 Coming soon for all Naperville, Elmhurst, Downers Grove, Bolingbrook, Schaumburg, Orland Park, and Chicago area drivers, the 2017Acura NSX is wowing automobile experts. A select few critics have gotten the chance to take the 2017 Acura NSX for a drive, and their jaws have all hit the floor. Read on to learn more about why test drivers are raving about the new 2017 Acura NSX – and while you wait for the release of the 2017 Acura NSX, check out our inventory of new and used vehicles!
See What the Critics are Saying
Don't just take our word for it. See for yourself what the critics are saying about the brand-new 2017 Acura NSX.
The Car Connection: "It shares the same initials, but the new NSX is almost nothing like its forebear. It's a halo car, true, but it's one that replaces the mechanical purity of the original for a wildly synthetic driving feel—really, a masterful performance of integrating turbos, servos, clutches, gears, motors, and batteries."
Car and Driver: "[The NSX] is a seamless operation and a vision of the future when all cars will be bionic."
Edmunds.com: "…direct-injected, twin-turbocharged V6…precise handling and response…rivals most of today's elite sports cars"
Wired: "…60 mph in 2.9 seconds and a top speed of 191 mph."
2017 Acura NSX Specs and Features
There must be some reason that critics are going so crazy for the 2017 NSX. What about the vehicle is so impressive? Here are just a few reasons:
With a twin-supercharged 3.5L V-6 engine, the 2017 NSX has 500 horsepower and is able to go from 0 to 60 in 2.9 seconds, and it hits a top speed of 191.
With a front double-wishbone, rear multi-link suspension and standard Continental Conti-Sport Contact 5P tires, the 2017 NSX handles expertly.
With a beautiful and aerodynamic exterior, the 2017 NSX reveals its reverence for other supercars and its ambition to surpass them. It matches its powerful engine and athletic suspension with a body that is simply a work of art.
Learn More About the 2017 Acura NSX Today
If you are a Naperville, Elmhurst, Downers Grove, Bolingbrook, Schaumburg, Orland Park, or Chicago area driver, the 2017 Acura NSX is coming soon to you. If you'd like more information about when, or if you'd like to learn anything else about the NSX, call McGrath Acura of Westmont at 888-299-8727 today! Or, if you're near 400 East Ogden Avenue, Westmont, IL, just stop in and say hi!
Related Acura NSX Pages:
New Acura NSX for Sale in Westmont, IL
Acura NSX Test Drive