2017 Acura NSX is a Finalist for the 2017 Autoblog Technology of the Year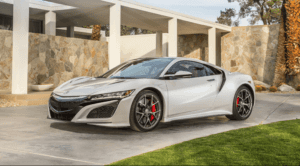 The first Acura NSX was an iconic supercar that proved you could create a world-class sports car that still offered reliability and convenience. The new 2017 Acura NSX provides world-class performance, but it does so with hybrid-electric efficiency and all-wheel drive handling, in a package that's nothing short of show-stopping. The Acura NSX is available now here at McGrath Acura.
Acura NSX is a Technology Showcase
The Acura NSX uses the innovative Sport Hybrid SH-AWD all-wheel drive system, which uses a 500 hp twin-turbocharged 3.5L V6 that's augmented by three separate electric motors, for a peak output of 573 hp. That output might be deceiving, however—the three electric motors help deliver a total of 476 lb-ft of torque instantaneously, so that the Acura NSX can launch from 0 to 60 mph in only 2.7 seconds. The NSX can also hit a top speed of 191 mph.
"There's only so much a driver can do with two hands and two feet," writes Michael Austin of Autoblog. "The NSX takes your inputs and figures out how to maximize the contribution from each individual wheel. This is a car that harnesses all the greatness of technology to change what's possible in a sports car."
While many supercars are notoriously hard to handle, the Acura NSX is drivable, even if you aren't a Formula 1 driver. It's not just the performance that netted the NSX recognition by Autoblog. Austin noted that even the Honda engineers at the Ohio plant that makes the NSX filed 12 patents relating to assembly process. In other words, every bit of this car is innovative.
Find the Acura NSX at McGrath Acura
Visit McGrath Acura at 1301 N. Elston Ave. in Chicago, Illinois, or call our team at 888-471-3087 with any questions. You can also contact our team online now for more information about the exciting new NSX.